Dear Jordan Valley Community,

The new year is a fresh start for all. Some reflect on the past year and identify the good, while others prepare to learn something new and create resolutions to improve. As I reflect on 2020, I am humbled by the incredible resolve our community has shown to stay healthy and allow students to learn. Whether at home or in the school building, our students are working hard and trying their best. They have had to adapt to so many changes from the regular routine and I commend their flexibility and willingness to try.
We are so excited about what 2021 holds for us as we continue to navigate learning through COVID times. Student drop-off & pick-up continues to be "curbside service" with a quick phone call to the office. We miss our volunteers, but we can't allow additional people into the building yet. Thank you for understanding. Feel free to reach out to your student's teacher for other ways you can support the classroom.
Parent Teacher Conferences are right around the corner. Please reach out to your teachers with any questions or concerns you may have. We value your collaboration in your students' learning! As always, please let me know how I can support you & your student. I love being here and interacting with each and every community member, especially our students! They are a bright light in some dreary times!
Stacey Nofsinger, Jordan Valley Principal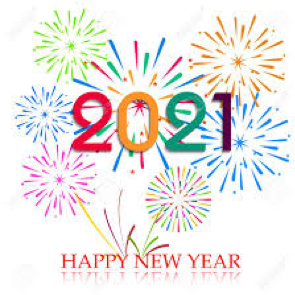 Upcoming Events
January 15-No Student Day/School Community Council @ 1pm
January 18-MLK Day-No School
February 15-Presidents Day 
February 24-25-Parent/Teacher Conferences
February 15-President's Day
February 26-No School 
What a successful PTA fundraiser we had last month! Our 58 silent auction items helped us raise $2,916.00. We are so excited for what this will be able to provide for our students and staff!
We have welcomed new staff to Jordan Valley in the past few months and want to give them a big hearty welcome!
Brittany Rust

Teaching our Post-High Class

Stephanie Haycock

Support staff in Deven Perry"s Class

Sarah Gray

Speech Language Technition
CONTINUING FREE MEALS TO FUEL FRIDAY LEARNING:
Fridays continue to be a day for independent, at-home learning for students — and CSD's Nutrition Services Professionals continue to make sure they are properly fueled for a full day of study. On Thursdays, our lunchroom has doubled the number of meals we normally prepare, adding an extra sack meal to the mix for students to take home and enjoy on Friday. The sack meals will be made available free of charge for the remainder of the school year. Efforts will be made to distribute the meals at the end of the school day so they can be quickly refrigerated. This is important as the sack meals will contain perishable items. If you would prefer not to receive this sack lunch, please contact the main office to opt out at 801-826-7200.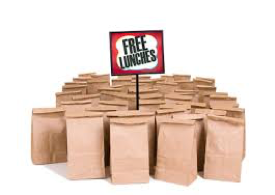 It is that time of year where we thank our teachers with the best way we know how – nominating them for top honors within the district. Our reigning Teacher of the Year is Melissa Cox and we're anxious to know who will be her successor. Complete the nomination form and return it to school in the provided envelope. These will be reviewed by a panel to identify who will represent Jordan Valley this year as Teacher of the Year. Deadline to submit forms is January 28th.
Info coming soon on how we can all work together on teaching our students safe internet skills.
Your orders are beginning to arrive. Once all items are in our possession, we'll organize and send them home in backpacks. Thanks for supporting the school fundraiser. If you did not have a chance to order, feel free to contact the office at 801-826-7200 to learn options for ordering.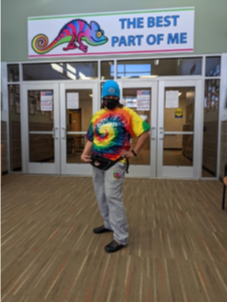 Principal Stacey sporting the sweatpants, fanny pack, tie dye, mask and beanie all with our logo.