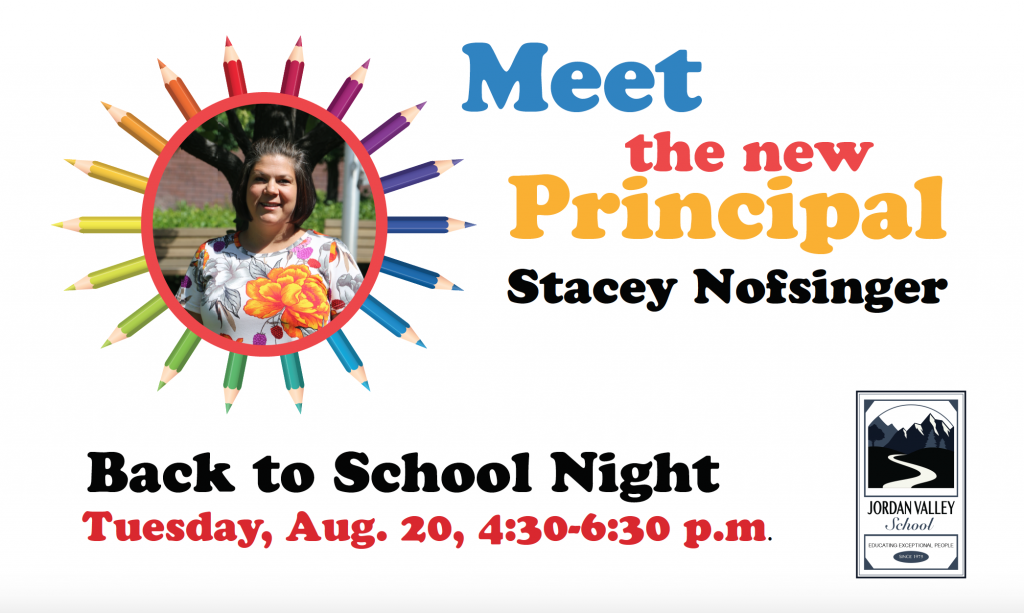 Dear Parents/Guardians and Group Homes,
My name is Stacey Nofsinger and I am thrilled to introduce myself as the new principal of Jordan Valley School. I am humbled to have been appointed by Canyons School District to carry on the traditions of a school that has been enriching the lives of our exceptional students since 1975. Over the past 19 years, I have worked as a teacher for students with special needs in the states of New York and Utah. Most recently, I've been a teacher specialist in the Special Education Department for Canyons. Above all assignments I have carried out, being a child advocate is the one I hold dearest. I plan on spending a lot of time getting to know your children; their personalities, interests and styles. I will celebrate their successes, small and large. As parents are every child's first teacher, I truly believe that by working together, we can make sure your child's social, emotional, health and functional academic needs are met. As a parent of two children, Victor (5) and Scarlet (almost 3), I understand and agree with the old African Proverb, "It takes a village to raise a child." I am excited to see your children through your eyes. Let's work together as partners in your child's education to ensure their success. Along with the teachers and staff, I will work hard to continue the legacy of valuable instruction to provide individualized growth.
I am eager and excited to begin what promises to be the best year ever. As your principal, it is important to me that everyone who steps through our doors; students, teachers and parents alike, feel welcomed and excited to be here! This empowers us to accomplish hard things in a fun and nurturing environment. My door will always be open and I will welcome your input. Please feel free to call or email me to discuss any successes or concerns you might have throughout the school year.
Join the Jordan Valley Staff and myself in kicking off the new year at our Back-to-School Night, August 20th, from 4:30-6:30. I look forward to working with you and your children to help them meet their goals and have a successful school year at Jordan Valley School.
Best Regards,
Stacey Nofsinger
PrincipalJordan Valley School